Geollect analysis of AIS spoofing featured by the Italian Post.
War in Ukraine, pro-Russians draw a giant virtual 'Z' on the Black Sea
May 26, 2023 by ItalianPostNews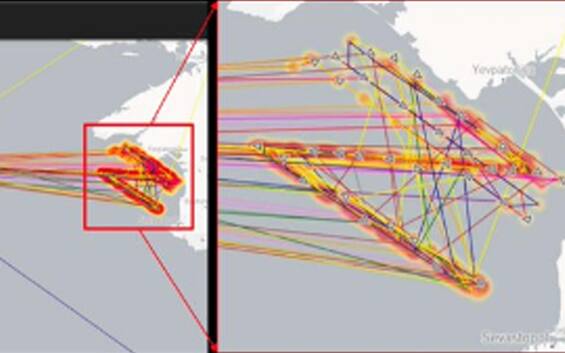 The UK's MoD has advised in its daily intelligence update that commercial vessels' Automatic Identification System (AIS) data was remotely spoofed to create an image of the Russian pro-war symbol last week. 'Z' on the Black Sea, visible on open source tracking software. The Ais is used to track boats also to ensure their safety.
A 'Z' 65 kilometers long
The tracks that make up the image of the 65 kilometer long 'Z' suggest ships' speeds of up to 102 knots (188 km/h), further confirming that it is a fake. . Pro-Russian actors probably made the image as a propaganda operation, London experts comment, perhaps in an attempt to boost Russian morale in view of an expected Ukrainian counter-offensive. But the initiative increases the risk of maritime accidents, the report concludes. And despite these virtual exercises, the Russian fleet in the Black Sea remains vulnerable, the ministry underlines, recalling that the reconnaissance ship Ivan Khurs was attacked yesterday.